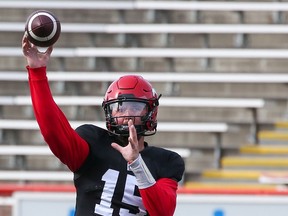 Article content
Tommy Stevens doesn't want to be seen as only a running quarterback.
Article content
If you look at his stats from the Calgary Stampeders' pre-season game against the Edmonton Elks on Friday, it's definitely what he did on the ground that stands out. It was Chris Streveler-esque.
Stevens ran the ball six times for 61 yards and a touchdown. He barrelled over Elks defenders and looked like he could be a potent weapon for the Stamps on short-yardage plays.
Article content
But when Stevens watched the game afterward, it was his passing that he focused on. The 25-year-old completed only 1-of-8 passes for six yards in the Stamps' 37-7 victory.
"I wish I would have thrown it better, obviously," Stevens said. "I mean, when you see 1-for-8, there's a couple throwaways there and a couple easy decisions I could have made to get me some more completions. Running the ball, obviously had some explosive plays and was able to get in the end zone again."
Article content
While Stevens wasn't as good as he wanted to be in Friday's game, he did enough during training camp to earn the Stampeders' third-string quarterback job and will be sticking around for the season.
Part of that, no doubt, is his ability to take off on the ground. That's not something we see often from Stamps starter Bo Levi Mitchell or backup Jake Maier. With teams able to put two quarterbacks on the field at the same time under new CFL rules, it's possible to imagine fun scenarios with Stevens on the field.
The Stamps though, don't just want Stevens for his running ability.
"I think all of our quarterbacks have gotta keep improving. They all made plays at times and all can improve, so just decided to go that route," Stamps head coach Dave Dickenson said when he was asked about the decision to keep Stevens with the club. "I want to build him and hopefully he continues to improve on reading defences and that, but he was solid in the huddle and made some good plays with his legs.
Article content
"I've gotta do my job and make him a better thrower with our system. He's got it in him."
With Mitchell and Maier ahead of him on the depth chart, it's possible fans won't get to see much of Stevens in the short-term. This season will, in all likelihood, be a development period for the Penn State product.
That won't just be running the ball.
"Obviously you watch the tape and you immediately try to find corrections, regardless of how good you play," Stevens said. "The passing was the biggest issue for me in the game, so you want to complete more and could have made decisions to pick up some easier completions, so make the corrections and hopefully move on from there."
BAD NEWS
The Stampeders don't have the final diagnosis on the leg injury that caused defensive tackle Andrew Seinet-Spaulding to be removed from Friday's game, but Dickenson is not expecting good news.
Article content
Seinet-Spaulding said he heard a pop when the injury happened, and on Sunday the Stamps head coach said the team was anticipating that the young defensive lineman will be out of action for an extended period.
"Don't have the final diagnosis (but) we're not expecting Andrew to probably be available this season," Dickenson said.
GETTING CLOSE
There was good news in the defensive backfield at Sunday's practice, with starting SAM Branden Dozier returning to the field.
Dozier is an important piece on both defence and special teams, so the Stamps will be looking to ramp up his usage over the next couple of days before Thursday's season opener against the Montreal Alouettes at McMahon Stadium.
Elie Bouka, meanwhile, was not a full participant but is getting closer to a return after missing a good chunk of training camp. The Canadian defensive back is a possible starter at safety, so having him back would be a boost.
Article content
"He did run, he's in the end zone by himself now," Dickenson said after practice. "It would be nice, we could use him. I think he was having a heck of a camp, I need the go-ahead to get him out there but he should be close."
Rookie receiver Jalen Philpot also stepped up his work, although he wasn't a full participant at practice.
"Right there with Bouka," Dickenson said. "When those guys are healthy, they're playing and maybe it'lll happen this week, but if not, very soon.
"Bouks has practised and knows our system, Jalen has to earn it. He has to go out and, really, take someone's job whereas I know Bouks is going to be playing once he's healthy."
QUICKHITS
Cam Judge looks very, very good at weakside linebacker … The Stamps were using William Langlais at fullback quite a bit. Will be interesting to see if he has a big season, although Charlie Power could get lots of playing time there, too … Linebacker Jameer Thurman had an unreal interception late in practice. I feel strongly that he's going to be in the mix for Most Outstanding Defensive Player at season's end.