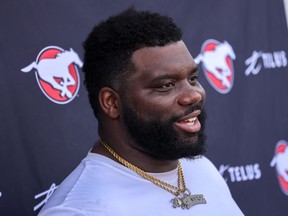 Article content
Derek Dennis doesn't look like a man who has been out of football for two years.
Article content
The 33-year-old offensive lineman hasn't played in a professional game since back in March 2020, right before the COVID-19 pandemic put the world on pause.
Before he arrived back in Calgary to resume his career with the Stampeders, there were understandably questions about how his body would react to the grind of another training camp and another long season.
Article content
Dennis has answered those questions emphatically.
"Oh yeah, I'm feeling like 2016 DD, it's been a while since I've been this small," said Dennis, who is listed at 6-foot-2 and 337 lb. "I don't think I've been this small since my rookie year, like 2015, so I'm feeling good, feeling confident, I feel like I'm back to where I need to be and just going out there and re-proving myself."
Article content
It's not fair to say that Dennis represented a question mark on the Stampeders' offensive line. Yes, he'd been out of football for two years after he chose to sit out 2021 instead of reporting to the Edmonton Elks, but this is the CFL's Most Outstanding Offensive Lineman in 2016 we're talking about.
He wouldn't have chosen to come back if he didn't think he could play and contribute at a high level and he was able to convince his former Stamps coaches that he was ready to return back in January.
Then, he got to work getting his body ready. Dennis admits there was some nervousness about he'd respond physically to a demanding training camp, but it went better than expected.
"I got through pretty well," Dennis said. "A lot better than I probably thought I would have. I think me being able to change up my diet, losing weight, training really hard before I got here prepared me and also, I'm a vet, man. I've been through it enough times, I can figure it out."
Article content
All signs are pointing to Dennis being able to pick up right where he left off with the Stamps in 2019, although he was hurt that year so it's possible the extended time away from football may actually have been good for his body.
If he's able to perform at an elite level at left tackle, it would be massive for a Stamps group that quietly has the look of a real contender.
The Stampeders have a lot of carryover from their 2021 offensive line. Zack Williams will be starting at left guard after a great first year as a starter, Sean McEwen will be at centre after being an all-star last season, the ever-improving Ryan Sceviour will be their right guard again, and Julian Good-Jones will look to build on a quietly excellent debut season at right tackle.
Article content
The only real change is that the Stamps have replaced Ucambre Williams with Dennis, and you'd expect the rest of the young group to continue improving and developing. They may not be big stars, but there's a solid foundation and potential for the group to be among the best units in the league.
Dennis, for his part, can't wait. It's been way too long since he's played the game he loves.
"It's been too years since I played a game, my last game was March of 2020, so I'm just over the two-year cusp of playing a football game," Dennis said. "I'm excited. Pre-season is pre-season, now is when it counts and you get to go good-on-good and really show your work, I'm licking my chops."
PUNTER ACQUIRED
Late Sunday, the Stampeders announced that they'd made a trade with the Saskatchewan Roughriders to bring Australian punter James Smith to Calgary in exchange for a conditional seventh-round pick in the 2023 CFL Draft and a third-round pick in the 2023 Global Draft.
Article content
That raised some eyebrows, given that the Stampeders already employ the services of Cody Grace, arguably the best punter in the CFL last season.
As it turns out, Grace suffered a groin injury on Sunday that may keep him out of the lineup for an extended period.
Smith played 49 games over four seasons at the University of Cincinnati. He is the Bearcats' all-time leader in punting yards and was briefly with the Tennessee Titans last year.
Grace was scheduled for an MRI on Monday afternoon to determine the severity of the injury.
QUICK HITS
It never seemed all that likely that the Montreal Alouettes were going to sit Vernon Adams Jr. because of one bad pre-season game, but reports on Monday confirmed that he's set to be the team's starting quarterback when the Als step onto the field at McMahon Stadium for Thursday's season opener against the Stamps … The Stampeders held a closed practice on Monday, so there's really not much to report, but their injury report did indicate that receiver Jalen Philpot and fullback Charlie Power were limited participants, while defensive back Branden Dozier didn't practise after taking part in Sunday's session.