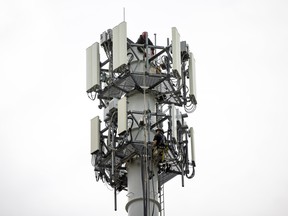 Article content
Back about a bajillion years ago, I was a happy Fido customer.
Article content
This was when the mobile provider was owned by a company called Microcell, which built a small but mighty digital cell network with mostly urban coverage, continually challenging the Big Three legacy telecom firms — Rogers, Bell and Telus — on price.
Its last big push came with City Fido, which offered unlimited local calling in Canada's largest cities for a flat rate of $45 per month.
This attempt to get people to, essentially, replace their landlines with cellphones was truly ahead of its time. Perhaps a little too much ahead of its time.
For all of Montreal-based Microcell's spunk and innovation, circumstances eventually led to a friendly takeover by Toronto-headquartered Rogers, with the two networks becoming fully integrated by late 2004.
Article content
It wasn't too much longer before Fido's prices started to rise — not that this was much of a surprise.
Has reduced telecom competition ever resulted in lower costs for consumers?
Besides, it's not as if Rogers hadn't fully telegraphed its intentions.
"We're not known for having rock-bottom prices," said the company's then-CEO Ted Rogers at a conference with investors in New York in December 2004, as reported by the media at the time.
"With Rogers it's a premium brand, a premium service, a premium product.
"We have no commitment to keeping the price levels the same as they were and we've already announced a significant increase in the price … for new (Fido) customers."
Fast-forward almost 20 years.
Just as successive federal governments under different political parties have tried since forever to foster more competition and better pricing in the wireless sector, Calgary-based Shaw announced in March 2021 it had struck a $26-billion deal to be taken over by Rogers.
Article content
Rogers was to absorb Shaw's wireless operations as a result.
This turned out to be one of the major hurdles for the deal, as much with federal regulators as with some industry observers, who feared the transaction would lead to reduced competition in a market that continues to be dominated by Rogers, Bell and Telus.
Rogers' answer? A new side-deal with Montreal-based Quebecor. It was announced late Friday the latter would purchase Shaw's Freedom Mobile for $2.85 billion, which would extend Quebecor's wireless network westward and cement its place as the country's No. 4 mobile operator.
Assuming things work out according to this new plan, it remains to be seen whether consumers will ultimately benefit.
As a mobile customer, $45/month today gets you a lot more than it did in the early 2000s, even before accounting for inflation.
But on a global scale, a number of external analyses over the years have continually found Canadians are getting hosed when compared to their counterparts in other advanced economies.
In July 2021, Tefficient, a Nordic company specializing in analyzing the competitiveness of telecom companies, published a widely circulated chart showing Canada to be an outlier with its high prices per gigabyte of mobile data, generating lots of income for mobile providers.
Article content
In 2020, U.S.-based tech media outlet The Markup found Canada's wireless data networks to be fast but expensive.
Faced with this kind of information, Canada's Big Three have invariably defended their pricing by saying it's hard to provide coverage across a huge country, with its population spread out over vast distances.
But how do we explain the situation in Australia, whose 26 million inhabitants are similarly stretched out over a landmass almost as expansive as ours?
The analyses referenced previously found wireless customers Down Under have access to cheaper monthly mobile subscription prices, with better rates in terms of data and speed.
Canada clearly doesn't have it right on this file.
Our telecoms regulator, competition watchdog, and federal government as a whole have their work cut out for them.
rleong@postmedia.com
On Twitter: @RickyLeongYYC