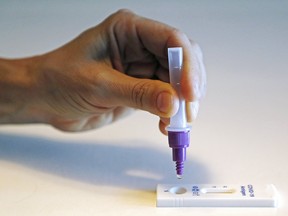 Article content
The public's consciousness isn't preoccupied with the COVID-19 pandemic in the same way it once was.
Article content
The vast majority of Albertans are considered fully vaccinated, and a smaller proportion have received at least three doses of protection.
Apart from many health-care settings (and public transit, theoretically) there are no longer any provincially imposed public health restrictions to prevent the spread of the novel coronavirus.
For better or worse, it seems as if the pandemic isn't a big deal anymore.
On the better end of things, most people have regained a sense of normal in our everyday lives. The economy is open, recreational activities are back in full swing and many of us are slowly patching our real-life social networks back together. All of this is undoubtedly good.
But on the worse side of the ledger, the pandemic is still here, despite how things feel day-to-day.
Article content
The Alberta government isn't holding media briefings as often as it did, and during the briefings they do hold, it has become increasingly difficult for members of the media to ask questions of Health Minister Jason Copping and chief medical officer of health Dr. Deena Hinshaw.
Official data isn't being shared as frequently, either, but when it is, it shows our health-care system is still being run ragged.
Hospital usage due to COVID-19 looks to be finally trending down but at last report, there were still almost 1,000 people occupying a bed who normally wouldn't need health care were it not for the virus.
There've been at least that many people hospitalized due to the coronavirus since mid-January, peaking around 1,550 at the start of February and again around 1,300 at the start of May.
Article content
Vaccinations have been and continue to be a vital tool to keep people out of the health-care system, and yet Alberta remains the laggard in this country when it comes to vaccination coverage.
According to the most recent federal data, only 81% of eligible Albertans are fully vaccinated with two doses, the lowest proportion of all provinces and territories. In contrast, Newfoundland and Labrador leads the country in this department, somehow managing to achieve almost 96% coverage for two doses of vaccine.
When it comes to boosters, only 40% of Albertans age five and up have their third dose, again the lowest proportion in the country. Our friends on the Atlantic coast lead the pack here, too, with 59% of Newfoundlanders and Labradorians being boosted.
Article content
Alberta continues to run a meek advertising campaign to encourage people to please, oh pretty pretty please, get their third dose.
Meanwhile, we are still recording some 50 deaths weekly due to COVID-19.
This is a staggering number of fatalities.
In 2021, more than 2,000 people died because of the coronavirus, the second only to dementia as a cause of death.
If we were to estimate conservatively 25 people will die in Alberta every week in 2022 because of COVID-19, a tally of 1,300, it would still be among the leading causes of death in this province.
And yet the government is perfectly happy to stick its head in the sand, highlighting instead our ability to manage the high number of people in hospital and to catch up on delayed medical procedures.
I suppose it shouldn't be surprising people in charge are perfectly happy to help us ignore such a deadly policy failure.
The question remains: Will Albertans allow their leaders to continue choosing inaction as a response to a persistently deadly public health crisis?
The fact so many people — especially people in leadership positions — are able to accept such a high number of unnecessary deaths as a fact of life tells us a lot about the state of things.
None of it is good.
rleong@postmedia.com
On Twitter: @RickyLeongYYC