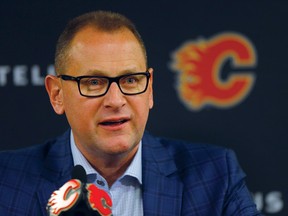 Article content
With most travellers trying to cram everything in a carry-on to avoid any lost luggage headaches, there is a bright side this week for the Calgary Flames.
Article content
They didn't need to pack a whole lot of swag — jerseys, hats and other welcome-to-the-organization goodies — for the 2022 NHL Draft in Montreal. With only three picks, and none in Thursday's opening round, they're slated to be the least-busy team at Bell Centre.
"The work is the same. You have to prepare," stressed Flames general manager Brad Treliving, who headed Sunday to La Belle Province. "The staff has to prepare for any outcomes that might happen. You can't say, 'Well, we don't have a pick in the first round, so we're not going to worry too much about it,' and then all of a sudden you end up with a pick in the first round. So the bricks and mortar of the process that you go through in building your lists and being prepared for the draft, it's the same as any other year.
Article content
"You're focusing on the picks that you do have, but you have to be prepared for scenarios where if extra picks do come on the board, that the work has been done."
The list is ready.
Thing is, the Flames' scouts will be crossing off a lot of names before they finally get to call one.
Barring a trade, they won't submit their first selection until near the end of the second round — No. 59 overall. By then, the Arizona Coyotes will have already hung a sweater on the shoulders of seven different prospects.
Article content
The Flames are poised to pick again in the fifth round (No. 155) and then the seventh (No. 219).
You shouldn't hear much grousing from fans in Cowtown, since Treliving depleted his draft capital in an effort to bolster a squad that ultimately finished atop the Pacific Division standings in 2021-22.
Article content
He packaged his first-rounder to Montreal in a mid-season swap for right-winger Tyler Toffoli and traded his third-rounder to Boston last summer in exchange for backup goalie Dan Vladar. He surrendered his fourth-rounder to acquire forward Tyler Pitlick — already shipped out — and his sixth-rounder as part of the transaction that landed Sam Bennett in Florida. The Flames received a second-rounder in that deal, but Treliving used that currency, plus draft chips in 2023 and 2024, to bring aboard centre Calle Jarnkrok just before the trade deadline.
"We haven't been operating any differently," said Tod Button, Calgary's director of amateur scouting. "We don't operate at the start of the year with what our picks are. We operate starting the year to evaluate players and their potential to get to the NHL and then put them in an order and a ranking and a rating and we have our list. Our list is regardless of having 50 picks or no picks. The process stays the same.
Article content
"Now, there is a time during the year where myself and my two crossover guys, Rob (Sumner) and Fred (Parker), we may concentrate on 10 or 12 guys closer to where we think we're going to pick, to get more viewings on them. But overall, 90% of it is exactly the same."
This part hasn't changed, either.
There is always a lot of trade chatter in the lead-up to the NHL Draft, and Treliving likes to be a part of it. He will be aggressively working the phones — and not just dialling Johnny Gaudreau's agent, Lewis Gross, as he pushes to get a contract done with the soon-to-be unrestricted free agent.
Remember that Gaudreau joined the organization as a fourth-round long-shot. The superstar left-winger was fourth in Hart Trophy voting this past season.
Article content
There is plenty more proof on the current roster that the Flames' scouts are capable of finding future difference-makers on the second day of the NHL Draft. Rasmus Andersson, Dillon Dube and Oliver Kylington were all second-round selections, while Andrew Mangiapane was a sixth-round steal. They found a future Norris Trophy winner in the third round, although Adam Fox stars in another city, and their prized puck-stopping prospect Dustin Wolf was a seventh-round swing.
Asked about what might be available at No. 59, Button put it this way: "A player that our scouting staff really likes and wants to put a Flaming C on, and a player that we think has enough attributes to build on for the development process to one day be a regular NHL player."
Article content
"We know this from history — guaranteed, the guy we pick at No. 59 is probably going to be in our top 45 on our list," Button continued. "That's just the way it always works. It's almost like two for one — we always say your top 60 players will get you through the first 90 picks. So I'm going to say somebody in our top 45 will be there.
"And the other part, why you have to pay attention on the floor, is when guys start to fall or fade or slip, you start talking about can we try to move up? It's harder when you have a two, a five and a seven, but you still talk about it. Or as you get closer, maybe there are 16 guys left in our top 45 and we're thinking, 'Maybe we can turn this No. 59 into two picks later?' So you don't turn your brain off on the floor, even if you don't have picks. You're always watching and monitoring and evaluating and seeing what could be there."