Tournament organizers announced Monday that a pair of fan favourites, Fred Couples and John Daly, are among the first to commit to the 10th anniversary edition of the annual PGA Tour Champions shootout at Canyon Meadows G&CC.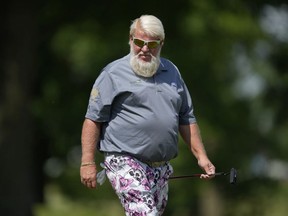 Article content
The Shaw Charity Classic is celebrating a big birthday with the return of two of the biggest names on the senior golf circuit.
Article content
Tournament organizers announced Monday that a pair of fan favourites, Fred Couples and John Daly, are among the first to commit to the 10th anniversary edition of the annual PGA Tour Champions shootout at Canyon Meadows G&CC.
'Boom Boom' and 'Long John' will be joined by Padraig Harrington, who won three majors during his heyday and is now a hot-shot rookie among the 50-and-over crowd.
Article content
That is some serious star power.
"We came out swinging with three of the more popular players," beamed tournament director Sean Van Kesteren. "Obviously, you want to get the needle-movers if you can, and we were lucky to get 1-2-3. It was like, 'Awesome, here we go. Should we name 'em all at once? Yeah, let's do it.' "
Monday's announcement will only boost anticipation for this back-to-normal instalment of the Shaw Charity Classic, scheduled for Aug. 5-7. The annual birdie-fest had to be cancelled in 2020 due to the pandemic, while they could only allow limited spectators last summer because of continued public safety measures.
Article content
"Honestly, I think this will be our biggest event to date," said Van Kesteren, whose tournament has racked up more than $76 million in charitable donations over the past nine years and established a reputation as a top stop on the PGA Tour Champions. "We're really excited. It's going to be fun, just getting people streaming off the buses again."
With single-day tickets selling in advance for only $10 as part of the anniversary celebrations, and with kids still free when accompanied by an adult, it wouldn't be a surprise if the Shaw Charity Classic shatters its previous attendance record this summer.
That's exactly what Daly — beloved for his grip-it-and-rip-it style and his man-of-the-people persona — is hoping for. He's been a crowd-magnet ever since his out-of-nowhere victory at the 1991 PGA Championship, his first of two major triumphs.
Article content
Now 56, Daly will be flanked on his second visit to Canyon Meadows by his son Little John, who is now a member of the golf team at the University of Arkansas and will serve in August as caddie for his proud pops. As a duo, they recently signed an endorsement deal with Hooters.
"I've always said I've got the greatest fans in the world, and Calgary is no different. No matter what, through thick and thin, they've always stuck by me," Daly said in Monday's release. "This tournament always has huge galleries. There is nothing better than getting it going and having the fans get loud and crazy. That's just the way I like them, so I'm looking forward to getting up to Canada with Little John, and hopefully, give the fans something to get loud about."
Article content
Couples has a history of exactly that.
He's a past Masters champion — he was fitted for his Green Jacket in 1992 — and World Golf Hall of Fame inductee. Over the past decade, the loudest roar at the Shaw Charity Classic came in response to his chip-in eagle on No. 18 during the final round in 2014. After a course-record rip of 9-under 61, he ultimately won in a playoff.
A lot of fans arrive at Canyon Meadows, pick up a tee sheet and immediately scan for Couples' name. At 62, his cohorts on the PGA Tour Champions will tell you he is still the coolest cat in senior golf. He arguably owns the smoothest swing, too.
"Everybody loves Freddie, and we're looking forward to having him back," said Van Kesteren of Couples, who has missed the past two trips to Calgary due to a bothersome back. "He's healthy again and he's playing more golf. So hopefully when he comes up here in August, he'll be able to contend again."
Article content
That's the plan.
"Calgary has been a very enjoyable place for me. I have always said as long as I'm healthy, I plan on coming here every year," Couples said in a statement. "The people at Shaw are incredible. The crowds are huge. The course is always in great shape, and I feel like I play it well. There is nothing more a player could ask for. I look forward to getting back and participating during this special year for the tournament."
Hailing from Ireland, Harrington won a hat-trick of majors over a fairytale 14-month stretch — going back-to-back at the British Open in 2007 and 2008 and continuing a red-hot run at the 2008 PGA Championship.
He turned 50 last summer — just a few weeks too late to be eligible to compete in Calgary — and has logged eight starts so far against the old-timers, including three runner-up finishes.
Article content
Perhaps he'll claim his first senior trophy in August at Canyon Meadows. It won't come easy in what promises to be a stacked field.
"There are a bunch of other guys that are playing well that we'll be able to announce shortly," Van Kesteren teased. "So it's going to be very competitive, and I think that's a big part of it. People want to see these guys play their best.
"It's going to be fun. I think it's going to be a banner year for us."
CHIP SHOTS: The Shaw Birdies for Kids program, presented by AltaLink, has already launched for 2022, with more than 260 youth-based charities poised to benefit from the support of generous golf fans. Donations are being accepted at shawcharityclassic.com.
Twitter.com/WesGilbertson